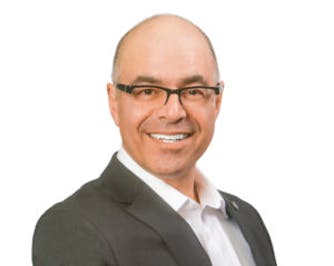 FRANK GUCCI
B.Sc
Sales Representative
frank@susangucci.com
c 416-875-3031
Frank comes to the SUSAN GUCCI TEAM from the corporate world as a top performing Sales Representative. Having received the highest accolades in his field (Pinnacle Award, Apex Award, Chairman's Ovation Award and long standing President Circle member) he is a skilled negotiator and consistently delivers outstanding customer service.
Whether buying, selling, leasing or building his strength is to educate his clients through every step of the real estate process and provide accurate up to date information empowering his clients to make the best decision for them.
His friendly, approachable and adventurous personality makes working with Frank a pleasure.
In his spare time he enjoys Italian cooking, red wines and great company. His strength and energy is fuelled by spending time with family & friends, travelling and boating in Muskoka.
Frank also a firm believer of giving back and has been a long time contributor of United Way and the Royal LePage Shelter Foundation.
He is thrilled to join the highly successful and dynamic SUSAN GUCCI team dominating residential sales in the Toronto area.
LORI BARNES
Sales Representative
lori@susangucci.com
c 416·271·1100
As a native of Toronto, Lori has always had a passion for the city and has been involved with many aspects of it's growth. Being actively involved in arts, education, community and culture, she has a real sense of what Toronto has to offer.
With a background in both Interior and Garden design she has worked on renovations and new builds with many clients, to realize their dreams. Her infinite patience and attention to detail, help focus on the balance of both client's desires and budget to bring successful results.
Furthering her career with a natural transition into the real estate world, Lori joined the award winning SUSAN GUCCI TEAM a few years ago and has been a significant contributor to the team.
JONATHAN GUCCI

B.Sc. Kinesiology
Sales Representative
jonathan@susangucci.com
c 647-229-2224
Jonathan is a second generation realtor and passionate about all things real estate. A savvy real estate investor, his commitment and dedication to his clients is admirable.
A natural born leader he has skillfully guided groups through remote parts of Canada to explore their potential and push limits.  Back packing across Canada he experienced a broader view of Canadian real estate that has proven to be helpful to his clients.
An avid fan of the Toronto Maple Leafs, Jonathan enjoys everything health and fitness, a great book, and has a passion for cooking.

CATHERINE PAUL
Client Care Manager
admin@susangucci.com
416·443·0300  ext. 368

Catherine comes from a strong administrative background within a major corporation. She has worked in education, sales & marketing and finance.
Her passion for ensuring every detail in the transaction process is handled efficiently and with the utmost care, which has assisted the team in being highly effective and organized.